Chuah Soo Beng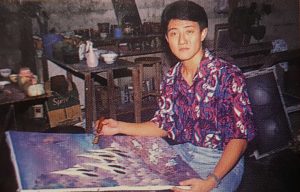 Born in 1967 in the state of Penang, Malaysia and educated at the Federation School for the Deaf. Soo Beng learnt art in the school and thereafter joined the Arts Village in 1985, and was also specially trained by the late Tan Thean Song, who was instrumental in guiding Soo Beng's unique style.
Although handicapped by hearing, he is a fine exponent of batik and his paintings are very much sought after by tourists from Italy, Germany, Australia, U.S.A., Japan and other countries.
His paintings are executed in paste colors and depict urban street scenes – Chinatown, hawkers,workers, trishaws and also idyllic rural life. Several of his paintings were displayed at the First Public Exhibition by Deaf Artist held in March, 1987 where one of his paintings which was earlier presented by his alma mater to the Prime Minister, was on display. He was one of the participants in the Orchid Batik Painting Exhibition at the Rasa Sayang Hotel in 1987.
Ten of his paintings are permanently displayed at MacDonalds in Petaling Jaya while a West German Art Gallery places a standing order for his unique style batik paintings.